Hosting Products
We offer a full range of website hosting products, hosted by us, owned by you.
Integrity Preservation
Keep your website fresh, healthy, strong, and visible with our monthly maintenance.
Web Site Development
Build your website strong and flexible from the start. We focus on user experience.
Do It Yourself
Do It All Yourself web design with the re-assurance that there is help when you need it.
Online Visibility
Keep your website visible in the right way with search engine visibility and engagement.
Talk to Us
Request a call or in-person meeting for a website review, training, or marketing consultation.
Welcome to Treebranch Group
Hosting, Design, Maintenance, and Visibility
Customized Web Design. Your Look. Your Style.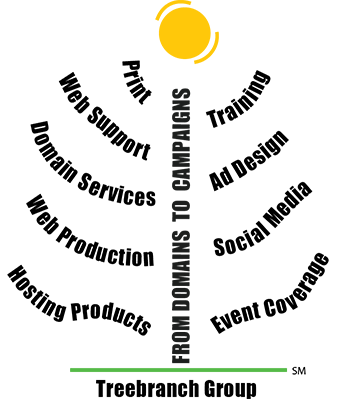 Treebranch Marketing & Treebranch Hosting
443-761-7405
From Domains to Campaigns
Treebranch Group brings clients a rooted approach where growth happens by building a strong foundation with attention to visibility. Our team has been working in the IT, website and marketing world for the past 25 years and strive to be your trusted advisor. Services include website diagnostics, hosting products and support, website design, web development, photography, graphics design, social media, and event support.  In the 90+ sites launched and counting, we have specialized in providing a practical hosting and website management plan so you, the client, can focus on what you do best.
Women and family owned and operated web site design company. Web Accessibility Compliance development available for those who are vision or hearing impaired.