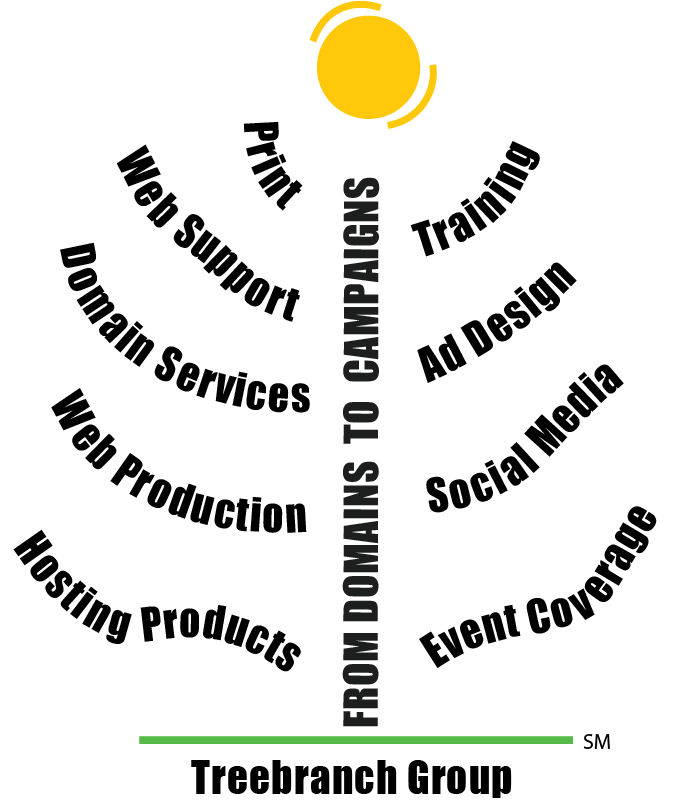 BE VISIBLE with Treebranch Group
Marketing and Hosting Services
Treebranch Group LLC offers local, visionary marketing assistance through websites, hosting, social media support, and design. Our company is located in the Annapolis/Baltimore area of Anne Arundel county. Jennifer Triplett, has teamed with professionals Denise Hightower & Nelsa Nichols who each have over 25 years experience in the website-IT and marketing development worlds.
Treebranch connects you with the tools, training, and support you need online or off, to complete your overall marketing plan. BE VISIBLE with website design, social media, print, photography, illustration, video, and live event broadcasting.
Jennifer, Denise, and the entire Treebranch Group are absolutely wonderful to work with. Their professionalism, talent, and expertise are invaluable. They recently photographed our annual fundraising event and they were able to capture everything we had hoped for. We are grateful for this partnership and look forward to working with them on future projects.
Laura Filloon Lynn
Just completed my first Facebook training with Treebranch Group and am so excited! I felt relaxed and was able to understand the basics in managing my pages. I am more comfortable in creating and posting events. I was even informed on the importance of reviewing settings and making sure I had secured passwords. I highly recommend using Treebranch and am looking forward to my next session!
Dawn Lewis
Website Hosting Services
Your website is the primary location that any potential customer or contact will go to learn more about your company. Representing your organization well is of primary importance. We build websites by collaboration, helping you to realize your vision. You own all hosting products and domains 100%. Treebranch Hosting takes extra steps to assure that you have the right fit for your business visibility needs. Schedule an in-studio visit for a consultation and set up for your hosted website project.
Call Us
443-761-7405 Main
Email Us
marketing@treebranchgroup.com